Managerial Changes in Production
As the year winds down, Fab Masters Company is gearing up for a surge of new business in 2014. Preparations are already in motion for the increase in production. One of the changes has already been made; a new managerial position was created to help expedite orders more efficiently.
Managerial changes on the production floor have taken place due to the creation of the new position. Ed Durbin who was Production Manager for the past eight years is now the new Logistics Expediting Manager.  As Production Manager he used to do both jobs, but as the company has grown, the need to separate order and material expedition, and daily production management became apparent. Ed will coordinate material delivery with the production schedule; assist customers with material scheduling for production, and assist in expedition of orders.
Brian Phillips, Shift Supervisor for the past two years, will take over as the new Production Manager, handling daily production scheduling and work flow. Carl Anderson was recently hired to fill the position of day Shift Supervisor.  Carl is experienced in tool and die, and has worked as a machinist for the past twenty years. The company is confident in the abilities of the new managerial staff, and sees these changes as a positive direction in overall production management.
As the New Year unfolds, Fab Masters will add two new machines to the production floor, in anticipation of an increase in parts for the new UPS vehicle, a project they have been involved in for the past two years.
_____________________________________________________________________________
A fresh but familiar face has rejoined our sales staff
Bill VanHusan has returned after pursuing several personal interests. And we are glad to have him back. Bill, originally joined Fab Masters Co. in 2004 as an outside sales representative, and left us in 2008.
While working independently selling construction services, and as a cost estimator for a steel fabricator, he also studied at Lake Michigan College learning CNC machining, and welding. With his new found experiences and education, he has a lot to bring to the table in the way of fabrication know-how. Bill said, "I am extremely excited about being back with Fab Masters Co., and have really enjoyed working with some of my original accounts.
Thank you all for the warm homecoming."
_____________________________________________________________________________
Annual Golf Outing 2013
Friday August 9th, a great day, a great course, and 56 great golfers! If that's not the perfect combination for a fun time, I don't know what would be.
The Annual Fab Masters (Golf Classic?) was held at the Pine View course, on a beautiful summer's day, with record attendance by customers, vendors, and employees. The event was moved to a Friday this year so that our participants could spend their cherished weekend time with families.
This year we had a four person scramble format, consisting of two customers or vendors, and two Fab Masters
associates, and the winners are…
 Fab Masters Howard Miller, and Josh Hunsburger teamed up with Mike O'Bryan and John Willis from Elixir taking first place after Josh made two key putts that pushed them ahead with a 61 on a course par of 72. Second place winners Jason Ponce and Mike Allen from Almond, and Rod Littell and Jim Harvey from Fab Masters came in with a score of 63. Third place went to Fab Masters Troy Weaver and Jason Mott, and Matt & Tom Heinskill from Pakkers, with a score of 68. Sam Cropsey of Fab Masters, Todd Myers, Chris Baar, and Jeff VanZytveld from Extruded Aluminum came in fourth. Fab Masters Marvin Smith had a near hole-in-one. He hit the flag pin.
Now, you're probably wondering what happened to the "Dream Team?" Well, Troy mumbled something about being saddled with a one-armed partner, and good news – Ed Durbin did not fall out of the golf cart this year.
Great day, great buffet afterwards and every golfer received a door prize. We thank our gracious customers and vendors for donating some fantastic prizes Nook Book, e-reader, two brand new drivers, and lots of gift cards, company logo items and golf balls.
Let's do it again, fore the same time next year!
_______________________________________________________________________________________________________
Manual Pallet Changer for Brother
Ok, a manual pallet changer isn't exactly bling, but it will put a jingle in our customers' pocket.
Accessorizing one of our Brother CNC tapping centers with a manual pallet changer has realized a 30% production increase.
This small change has made it possible to produce four parts on a continuous run cycle. This stationary table, fitted with rows of rollers allows an operator to set up a run of parts while another run is being machined. The pallets then can easily be rolled in and out of the machining center on a continuous cycle.
Small things do mean a lot – especially when it comes to paying for machining time.
---
Join Us at the AmCon Design & Contract Manufacturers Expo

November 6-7 2012  -  Novi, Michigan
Booth 232  -  Suburban Collection Showplace
We invite you to meet with our sales staff. Put a name to a face, and familiarize yourself with our fabrication processes.
Sam, Bryan, and  Sharon will be glad to answer questions concerning your project from concept to finished product.
Admission is FREE.
Register in advance at www.AmconShows.com

---
UPS Is to Put 150 Plastic-Body Trucks into Service
Perhaps you are wondering what that has to do with an aluminum fabricator… during the past year, we prototyped,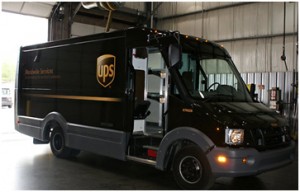 and fabricated various aluminum frame assemblies for this new vehicle. Substituting aluminum for the steel frame significantly reduced its weight, adding fuel economy.
Utility vehicle parts have had a stable position in our production mix for many years, be it commercial or military. It was a privilege to be chosen to help bring this enormous project to fruition.
Read full story from NYtimes.com…
---
Congressman Fred Upton Visits Fab Masters Co.
The manufacturing industry is starting to rebound in Michigan, and Fab Masters Company is enjoying its portion of success. Congressional representative Fred Upton was pleased to hear that business was improving even on the smaller scale that Fab Masters occupies.
On Tuesday March 13, Upton visited Fab Masters Company. President Ron Troxell led a tour of the facility. Upton was shown several new large-volume projects that have been on the drawing board for almost a year, and will go into production soon. One of the projects is a high-efficiency, low maintenance indoor safety exit sign that uses LED lighting. Fab Masters has seen a surge in business that involves new technologies such as the use of LED lighting, and additional volume in the production of heat sinks. The LED lights create more heat than the old-style incandescent bulbs; this in turn creates the need for more sophisticated heat sinks to reduce temperature and extend the life of the lights.
Troxell also expressed the fact that overseas business was returning. He said, "the cost of logistics and poor quality have not compensated for the low cost of labor, and in some cases has even increased fabrication cost due to the need of
having low quality parts re-fabricated." He went on to say; FMC regained such a customer, "We are in the process of fixing thousands of parts that were out of specification when they arrived from an overseas facility." Troxell added, "last week, we had representatives here from a US company that was using an overseas supplier who infringed on their patent rights. Fab Masters has helped them redesign their complete project, and it will be ready to ship in July."
The visit concluded with Upton discussing legislation waiting to be passed that will help small businesses more easily obtain operating funds, and fuel the country to a faster economic comeback.
---
New Automated Work Cell in Operation
Efficiency, consistency, and cost effectiveness are important keys to success in today's manufacturing world. With this in mind, Fab Masters Company, which specializes in the fabrication of aluminum extrusions, developed a plan to improve their CNC machining department further. They have purchased and installed a Faunc S420iW Robot with an RJ2 Controller to create an automated work cell area.
The Faunc S420iW Robot is a robotic arm that features six-axis modular construction, electric servo-driven flexible design for high-speed and heavy payload processes and can handle 342 lbs. with a 95" reach. This automated work cell contains the pick-and-place robot, two conveyors, and one of their large VM30 Milltronics Computer Numeric Controlled (CNC) machining centers. The robot picks up a raw extrusion from the in-coming conveyor and places it in the machining center. After machining, the robot removes it and places it on the second out-going conveyor where an operator waits outside of the safety cage to deburr and stack the extrusions.
This work cell is designated for processing one of their heaviest parts. Presently the pick-and-place robot is working with one machining center, but plans are in motion to move another CNC into the cell, and reprogram the robot to work with both machining centers. This will enable one operator to supervise both CNC's while allowing the operator to concentrate on verifying and deburring parts. Previously it took two operators to manually load and unload parts weighing up to 75 Lbs., in addition to verifying and deburring.
The addition of the pick-and-place robot will improve employee ergonomics, and will enhance employee training of robotic programming operations.
Fab Masters Co. is very excited about getting this project operational. Several delays were encountered, which is expected when a new technology is added to facility operations. Efficiency percentages have not yet been calculated, due to the precautionary speed of operation, while fine-tuning the system.
---
CNC Machining Work Cell Nearing Completion
The two CNC machining centers that flank the Fanuc S420iW Robot have been repositioned, and the safety cage is completed. Programming is in the final stages, and it is starting to look like Show Time.
We are very excited about getting this project operational. Several delays were encountered, but that is to be expected when a new technology is added to facility operations. Efficiency percentages have not been worked out yet, but the pick-and-place robot will improve production efficiency by enabling one operator to oversee both machining centers, freeing a second operator to be used for other applications.
---
Sam Cropsey new Sales Manager at Fab Masters
Congratulations go out to Sam Cropsey, on his promotion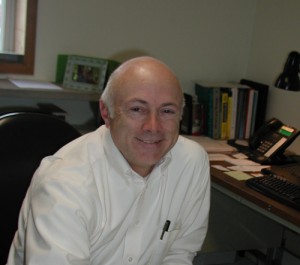 from Sales Representative to Sales Manager at Fab Masters Company.
Jim Troxell, Vice President of Fab Masters says," Sam has done an exceptional job with understanding and researching what Fab Masters is great at and finding customers that fit that profile. He puts a tremendous amount of time and effort in the projects he pursues for us and has a very successful track record of putting these projects's in the WIN column for Fab Masters Co. He will be a strong leader and his knowledge of the business will benefit his associates who work with and under his direction."
A graduate from Western Michigan University with degrees in Business Administration and Marketing, Sam worked for Revlon Corp. as an outside sales representative for seven years, followed by operating on his own, as a manufacturer's representative before coming to Fab Masters Company.
Hired in 2001, Sam was quickly promoted to the sales department as Quoting Assistant, due to his exceptional organizational skills in completely turning the shipping department around in six months. His drive and customer relation skills landed accounts with Am General as welding suppliers, and Utilimaster, which Fab Masters Co. still holds. From 2005 to 2009, Sam worked for R & H Machine in Three Rivers, gaining a more varied knowledge of fabrication, and then returned to the Fab Masters sales department.
Sam is defiantly on top of his game, presently representing an 18 state district for Fab Masters, and has recently cultivated a relationship with Sapa Corp., which is looking very fruitful. He keeps his stride by staying focused on priorities, and has no major changes planned for his department in the near future. He would like to implement more training, which he believes facilitates opportunity and growth. Some of his short-term goals are to tighten up focus and sharpen directives that will concentrate on efficiency for both company and customers, and improve sales dollar projections to gauge backlog movement and future shipment growth more effectively. He said," We need to be more efficient and innovative in order to survive foreign competition." Having these priorities in focus, he has and will continue to bring growth to Fab Masters Company.
---
New Product Line
Drop-In Quad Rail for M-4 Type Rifles
Fab Masters has developed a line of high quality, tactical parts and accessories for small arms, produced right here in our own facility.
Two-Piece Drop-In Quid Rail System:
6061-T6 Aluminum
Picatinny Rail Spec's – MIL-STD-1913
Hard Coat Anodize – MIL-A-8625
Teflon Impregnation – MIL-A-63576-A
Engraved Top Rail Slot Positions – MIL-STD-130N
"Your Logo" Laser Engraving Available
Graphic Anodize, as well as Flat Colors, Available
Volume Quantity
These rail systems are currently being sold for Military, Law Enforcement, and commercial applications.
Call TOLL FREE:
Don Brittin
866-646-3038
---
Update -  Pick & Place Robot on the move…
The new CNC Machining work cell is starting to take shape.
Last week maintenance staff moved the Fanuc S420iW Robot into the new work cell area. Positioned between two CNC machining centers, the pick-and-place robot will load and unload large and heavy extruded aluminum parts between the two machining centers. The next move will be to reposition the machining centers. Work in process – Stay tuned.
___________________________________________________________________________________________________
NEW Service, NOW Available!

Rapid Prototyping offered
---
Fab Masters Company, Inc. announces Rapid Prototyping as new service offering. With the arrival of our new Dimension BST 1200es, 3D printer we are now providing in-house Fused Deposition Modeling which uses a heate
d nozzle to extrude ABS plastic having a 0.01" diameter onto a work piece. In this type of rapid prototyping, fused plastic is deposited layer by layer according to the 3D model-C.A.M/ C.A.D software. Working models are ready to use right from the printer, maximum size being 10" x 10" x 12".
Rapid prototyping speeds the design cycle and offers a low cost option for short runs, since no tooling is required.
Rapid prototyping allows engineers, designers, managers and end users to check designs for usability, appearance, manufacturability, form, fit, function, prior to committing to conventional manufacturing. One day turnaround is available (when requirements are met), and prices are very competitive.
---
Up-grading to CMM Quality
CMM Technology, not a luxury anymore – it is essential to winning and retaining business
Offices were relocated, and walls were knocked away in Quality Lab 2 to make room for the LK Metris G-90C last month. Larger production runs and higher quality standards in manufacturing have lead us to the purchase of another co-ordinate measuring machine (CMM).
Highly machined parts took considerable time to measure with our portable Romer Arm CMM that is a manual device.
The LK G-90C works on the same premise as a computer numeric controlled (CNC) machining center (its automatic). You program it; it measures the part from the same point every time, using the same X-Y-Z grid as CNC's to determine a position on the worktable. The LK CAMIO software allows development of programming inspection routines directly from CAD models, running off-line so as not to disrupt operation of the CMM. The LK G-90C takes our Quality Department to the next level, faster inspection times, higher accuracy, and it will free up quality staff.
Quality control is improving all around. Last Fall Quality Lab 1 was the recipient of new Inspec software, up-grading the Micro-Vu (video optical comparator.)  An optical comparator is an instrument that projects a greatly magnified image of a part feature onto a screen for examination, to compare the shape, size, and location of its features. The new software enables a part, when layed-out, to be seen on a separate monitor that makes checking distances and true positions more accurate. Files can then be saved or emailed directly to customers. Print file can also be imported for simultaneous comparison to part. In addition, the ability to write programs increased accuracy and saves time.
---
CNC Work Cell Planned With Pick & Place Robot



Efficiency, consistency, and cost effectiveness are important keys to success in today's manufacturing world. With this in mind, Fab Masters Company developed a plan to further, improve our CNC machining department. The purchase of a Fanuc S420iW Robot with RJ2 Controller is under consideration to create a work cell area for handling large, heavy parts. The addition of this pick-and-place robot is expected to improve production efficiency and will enhance employee training of robotic programming operations. The unit will be used to load and unload two machining centers dedicated to one of our heaviest parts. It will also improve employee ergonomics. The Fanuc S420iW Robot features six-axis modular construction, electric servo-driven flexible design for high-speed and heavy payload processes and can handle 342 lbs. with a 95" reach!
Project completion is targeted for late summer.
---
Fab Masters 2012 Show Schedule
See us at:

Meet North America's finest Job Shops for your custom contract manufacturing needs.

Schaumburg, IL
May 7 & 8 2013

---
Novi, MI
Suburban Collection Showplace
Nov 6 & 7 2013

---
Annual National Veteran Small Business Conference