The American Dream – Come True
"I grew up here," said Troxell "Marcellus needs industry and I'd like to help to get things going."
---
Ron Troxell started Fab Masters Company, Inc., in 1984 with a $1500 tax refund. A small bench mill, cutting tools and calipers for inspection were purchased. After two years of working nights and weekends making parts and putting every penny back into the business to purchase better equipment, Troxell's single-car garage was full. Today, the company operates seven days a week, is serving customers nationally and in Canada, Mexico, Brazil and the United Kingdom.
---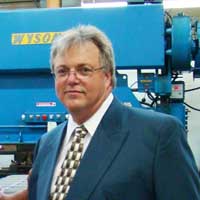 Ron got the idea for starting his company while working as a product engineer at in Kalamazoo, Michigan. "I felt I could make better-quality parts at a better price," he said. The turning point for his company came in mid-1986 when Ron, his wife, father and one part-time employee were having trouble keeping up with production demands. "I made the decision to leave the security of steady wages and be responsible for my family's future on my own," he says. "At the time it was a very scary decision, but once committed, I've never looked back." An 18-acre parcel of land was purchased 1-½ miles outside his hometown of Marcellus, Michigan and a tan two-story metal building of 2,300 square feet became the home of Fab Masters Company, Inc.
Employing six people that produced 900 parts in six weeks, Ron was skeptical about being able to fill all this space in his new building. However, two years later he needed to add 3,072 sq. ft. of manufacturing space and this started the expansion ball rolling. In 1991 and 1995 manufacturing and warehousing space was added and by 1998 Fab Masters had six CNC machining centers, employed 41 people on two full shifts and generated sales of more than $2,000,000.
In February of 2000, after a major building expansion of 21,000 sq. ft. that doubled the physical size of the facility, the company was hit hard by a slowing business trend. The payroll was cut from 68 employees to 18 by early 2002. The remaining employees gave up wages, hours, and benefits to help in the fight to survive. Fighting off the poor economy and offshore competition Ron refused to give up. "We worked hard on marketing strategies, added to our sales efforts and strengthened relationships with our existing customers," he explained. "By 2004 we were back to 52 employees; all of these efforts started to show results with increased orders and new customers."
Fab Masters continued to grow. The spring of 2008 brought the completion of another major expansion that has taken the total facility to 90,000 square feet with 120 employees. The company is ISO 9001/2008 Certified, an authorized government supplier (Cage Code3M4W4), and ITAR compliant.
Our independence and size has enabled us to become a stalwart pillar in the aluminum industry. This being due to the company's ability to flex with the marketplace, provide innovative processes, and pursue new technologies.
Fab Masters success was recognized and awarded by: Corp Magazine, 2009, Michigan Economic Bright Spots Award, 2009, Michigan Economic Development Corporation, 2008, recognized Fab Masters for Growth and Success, Edward Lowe Foundation, 2005, Michigan 50 Companies to Watch Award and the Economic Commission of the American Legion, 2001, Employer of the Year for hiring veterans.
In an effort to diversify, Ron ventured into the marine business and started Innovative Products Marketing LLC. (IPM), in 2001. IPM designed, manufactured and sold custom aluminum boat docking systems and accessories. Fab Masters expanded this product into the national park systems (boardwalks and walkways) institutional, resort, condo, and light marina applications markets. In 2007 Ron closed down this product line to concentrate fully on Fab Masters expansion.
After the expansion of the welding department, the lack of experienced welders plagued the company's employment efforts. Seeing a lack of skilled welders available in the area, Ron championed a cause to train more welders quickly by opening an in-house proprietary welding school in 2009. The school provides intensive industrial-level skills training for MIG & TIG aluminum welding, with American Welding Society certification in an eight week course. The school also has worked with Michigan Works since 2009 in providing training to displaced workers and low income individuals.
We have dedicated ourselves to manufacturing a quality product and customer satisfaction. With these goals foremost in our minds business continues to grow. Willing to be innovative, accept new challenges, provide employment for local residents and be active in helping other businesses come into our community, Fab Masters strives to be the best it can be.